Two VIDA wines awarded with silver medals at the Balkans International Wine Competition
VIDA Gamza Unfiltered 2021 and VIDA Muscat 2021 are among the wines that received awards at the prestigious Balkans International Wine Competition. The two VIDA wine treasures received silver medals at the 11th edition of the festival. The traditional awards ceremony took place on the historic Greek island of Salamina, and this year a record number of participants - over 1000 wines and 280 wineries - took part in the competition. The wines were rated by an international jury of 21 judges chaired by Igor Lukovic from Serbia and including world-renowned wine experts from around the world. The competition included wines from Bulgaria, Greece, Bosnia and Herzegovina, Kosovo, Romania, Croatia, Albania, Slovenia, North Macedonia, Serbia, Turkey, Montenegro and Ukraine.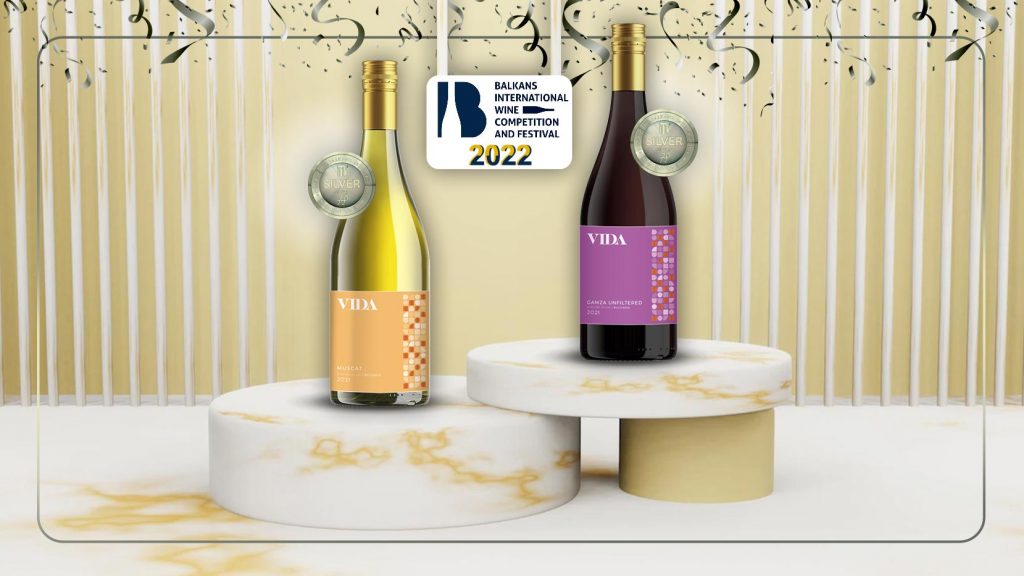 VIDA's award-winning wines are from the Gamza and Muscat varieties grown in the brand's own vineyards in the village of Gradets. VIDA Gamza Unfiltered 2021 is a magnificent unfiltered wine that is distinguished by its low sulphite content. In the glass you will enjoy its magnificent ruby-violet colour, which hints at the aromas and flavours in its profile. On the nose you'll experience a palette of nuances including cherry, licorice and violet, while the crisp and clean palate brings notes of candied cherry, sweet spice and a harmony of earthy and mineral accents.
VIDA's second award-winning wine is equally impressive and will definitely tempt any white wine lover. VIDA Muscat 2021 starts its presentation with a delicate pale yellow colour with green highlights. Its aroma is rich and intense, revealing nuances of apricot and geranium. On the palate, the wine has a pleasant freshness, creating a sensation of marshmallow roses, jasmine and orange blossom.
All the awarded wines from the competition were presented and tasted in the special Golden Tent in the Wine Town in front of the National Palace of Culture during the exhibition in Sofia from 16 to 18 June. Our northern neighbour will host the 12th edition of the festival in 2023. In Bistrita-Nasaud, Transylvania, hundreds of wineries and wines will once again "parade" at the legendary Balkans International Wine Competition.
Enjoy the award-winning wines of VIDA: